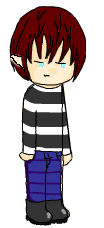 Keirain

Name:

Keirain

Gender:

Male

Age:

1000+

Species:

Elf

Occupation:

Guardian of the Necro-no-mekion

Relatives:

none

Introduced in:

The Shadow Over Beutopia

Latest appearance:

The Shadow Over Beutopia
Keirain is the guardian of the Necro-no-mekion .
appearance
Edit
keirain has glowing blue eyes with red hair, elongated ears, and is 6'6. he has the same skin color as a human, but he says this is a trait shared between "those inferior cretures" and elfs.
personality
Edit
he is shown to sevearly hate humans and dogs, and somewhat dislike hyoomans, being an evolved form of humans. he also will laugh maniacly at random, even if there is nothing funny arround.
he lives in a cave at the top of a mountain. he is saught out by fin in hopes to save beutopia from the cthoni and the servants of cthulhu . when asked how to stop them, his response is then a cruel laugh and then holding up the necro-no-mekion saying "In the hands of a human, the secrets within this tome could unravel the world...". fin then gets angry and yells for keirain to hand over the book, because the hyoomans are in danger. keirain then replyes, "let them die then. there just an extension of the inferior race!" fin then questions keirain being an elf because of his human skin. keirain replys that it is a trait shared between "those inferior cretures" and elfs. He then tells fin that if he wants the book, he'll have to defeat all the cretures keirain sumons. fin does and keirain still refuses to hand the book over. fin knocks keirain unconsious and takes the book. keirai is then seen being draged away by tentecles.
it is assumed he was alive before the great mushroom war, as he says that hyoomans are infact mutated humans.
his reason for hateing humans is unknown.
Community content is available under
CC-BY-SA
unless otherwise noted.