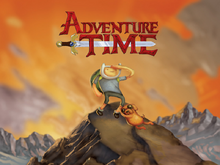 Adventure Time with Pen and Jack ( ATPJ for short)is a fanmade series by Sechelf.Ghost.2.0. It has no affiliation with the pilot and is made only for fun and wasting time. In one epiosde out of three, a wikia member will guest star in an episode.
The setting is in the land of Uuu, an AU of the Land of Ooo, where a boy named Pen and his dog Jack fight over the evil Ice Emperor annd rescue princess. The capital of Uuu is Susar Ville( Candy Kingdom), the lair of Ice Emperor is Frozen Zone ( Ice Kingdom), Pen's former crush was Princess Chewygum ( Princess Bubblegum) and the Vampire Queen was Madelain. Lady Rainbow who speaks Japanese is Jack's girlfriend. Lumpy Space Princess is Chumpy Cloud Princess and Tree Trunks is Stomp Snoots.
Characters
Edit
Pen the Human-a boy who likes adventure and saving princesses. He is the last human on Earth. 16 years old.
Jack the Dog- a ligh-brown fur outside and a golden heart inside. He is the BFF of Pen and dates Lady Rainbow and is funny, though serious and wise when situation needs it.
Princess Vivian ,,Chewygum"- the wise princess of Sweet Kingdom. She has over a millenium.
Etymology
Edit
Sechelf first came up this when he saw taht almost everyone wrote a story about Pen and how he discovered that Finn is his brother. So he tought that he could do it, so here is it!
The inspiration for the character's names are: Uuu, the pronounccion of ,,Ooo" in the Romanian dub ; Jack, after the misspelled name of Jake on a romanian DVD, Ice Emperor after the Romanian dub name of Ice King, Frozen Zone after the ,,Dark Zone" in Pretty Cure', Princess Chewygum after Princess Chewypaste, Madelain after the misspelled name of Marceline on a game, Lady Rainbow after the incorrect name of Rainicorn in a game, and Japanese because Sechelf knows, loves  and is addicted to Japanese.
Episodes
Edit
Heroes of Uuu- the duo saves Chewygum from teh Emperor with the help of Rainbow and... Benjamin Franklin?
Party on, Zombie!- When Chewygum accidentally revives dead Sugar People, the duo protects the slumber party from letal panic.
Tart Tournament- Pen and Jack go on a quest to find the legendary Quartz Red Apple for stomp Snoots.
.
Community content is available under
CC-BY-SA
unless otherwise noted.